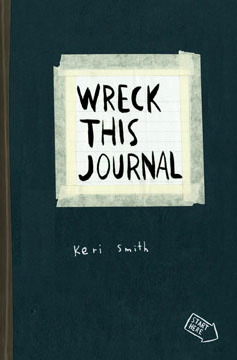 Today I finally received my copy of "Wreck this journal",
which
celebrates creative destruction
: "

To Create Is To Destroy

".
She encourages the reader to fill the book in a messy kind of way and then to destroy the pages to experience the true creative process. The book is wonderful and I already find it difficult to destroy the pages, to poke holes into them and to crumble it - as suggested. Even writing in it seems hard to do, as I really consider books to be treasures and like to take care of them.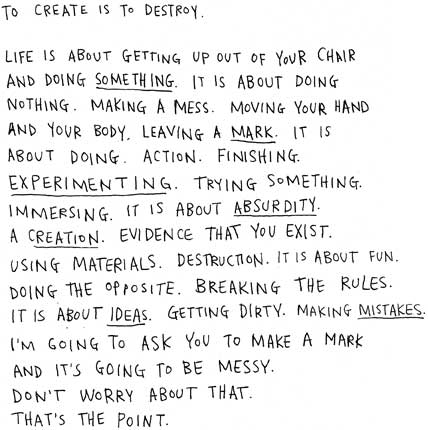 Still I wanted to start right away, but then I had this idea: It would be so much more fun to do this together with someone else. Then we could compare the pages. I think this could be fun to do and inspiring. Maybe we could also blog about it.
I´m looking for someone who would like to do this with me.
In exchange for the time you need to invest I would send you one copy of the for free. I had a look through the book.
There is no need to be an artist
.
So, if you drop by my blog from time to time, can read and write English and would have fun doing this, just send me an email.


BTW: In case you want to have a look inside the book, watch the video on Danny Gregory´s blog. He reviews some books and "

Wreck This Journal

" is the first one.